The adventure of c0c0n is now in its 14th year, with the prime objectives of promoting the chances to understand, demonstrate, educate, and share knowledge in the fields of information security, data protection, and privacy.
This year, c0c0n XIV was hosted virtually because of the existing pandemic. And one of the key highlights of the conference was DomeCTF, which also followed the same suit of being hosted online.
Conducting such a monumental event online posed several challenges which were addressed to ensure the best experience for all.. Conducting the CTF virtually allowed us to open up the event to a wider audience, and we wanted to live up to the expectations by setting up a challenging event.
The registration was open 4 weeks before the event and we received about 350+ teams in total. We had also set up a Discord server to assist and bring together the DomeCTF participants as a community.
We sent a welcome mail with a part of the "Registration Token" to the participants 5 minutes prior to contest on 12 November at 10 am. We set the other part to be figured out with the help of the "DomeCTF bot", in the Discord server.
Only 112 teams could figure this out and register on the CTF platform on time and then the competition kicked in.
The contest were consisted of 19 boxes in total and participants captured 11. The team BIRD&WOLF, comprising of Prajwal CP and Adhithya Suresh Kumar, finished in first place with 1390 points, and the team WARLOCKROOTX, of Anna Justin and Sandeep, landed second place with 1120 points.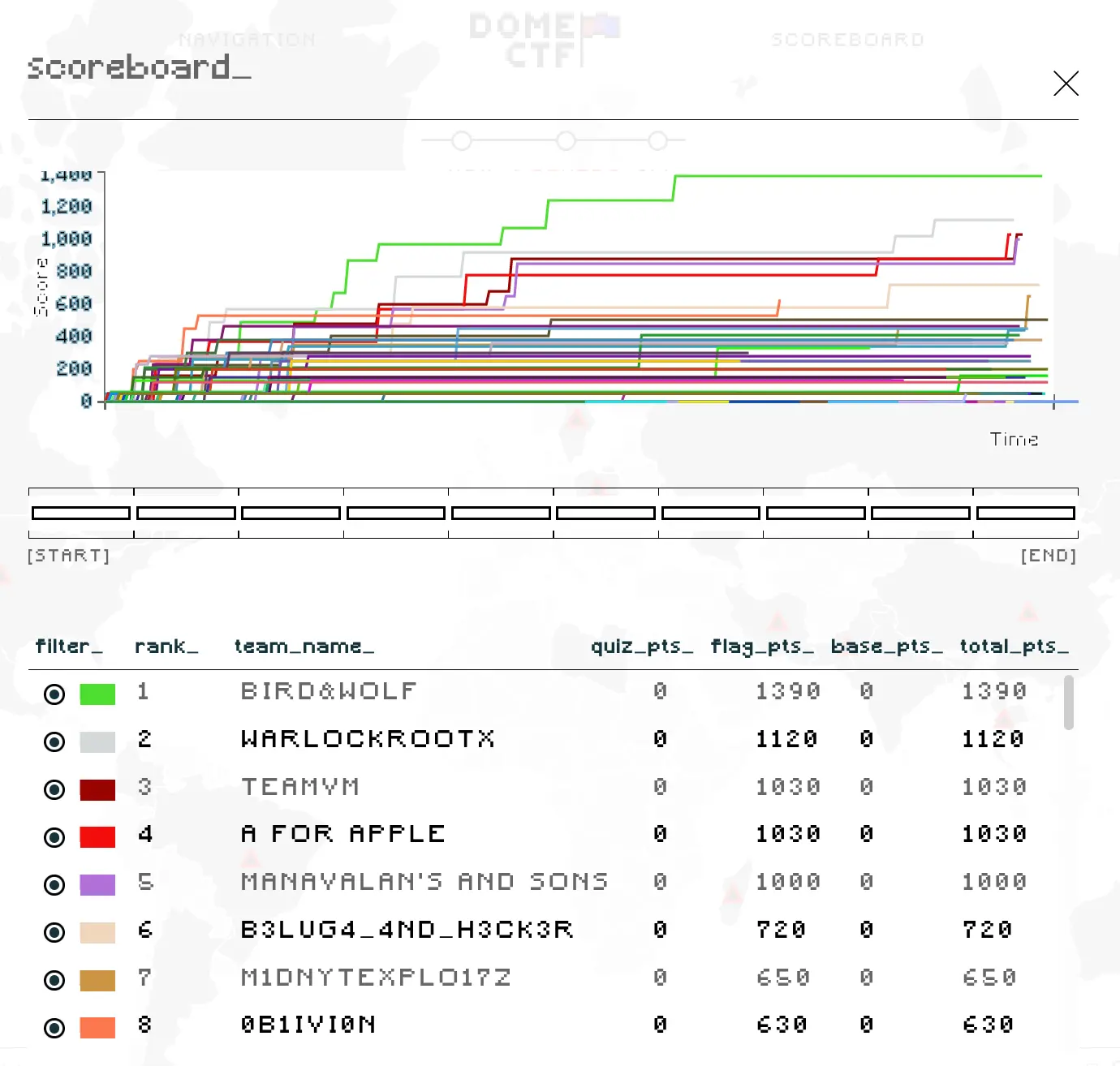 Check out the below write-ups to have a glance at the non-captured challenges.
Being a group of cyber security enthusiasts, conducting another successful DomeCTF was a great milestone to achieve and we expect to come again next year with even better challenges!
---